Ha poca caffeina, contiene ferro, calcio, potassio, fluoro (quindi protegge dalla carie), vitamine B1, B2 e C (quanto un limone), polifenoli (antinfiammatori) e carotenoidi (antiossidanti).
E' il the verde, una bevanda che è quasi una panacea, capace di migliorare un'infinità di aspetti della nostra salute. L'ultimo slogan potrebbe essere: bevi the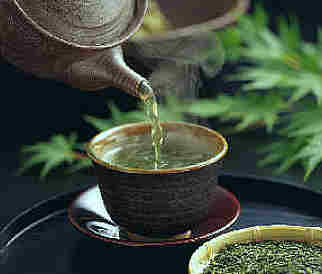 verde e ti proteggerai dall'infarto. Una ricerca olandese pubblicata su Archives of Internal Medicine ha dimostrato che bastano uno o due tazze al giorno per dimezzare il rischio di arteriosclerosi all'aorta, una delle principali cause di incidenti cardiovascolari).
Chi si impegna un po' di più e ne beve quattro al giorno, ha il 69 per cento di probabilità in meno. E funziona anche se aggiungi zucchero, limone o miele. Ma non basta:
Dopo la menopausa due tazze di the verde al giorno dimezzano il rischio di tumore.
Un suo componente, l'Egcg, agisce contro qualsiasi tumore dall'esofago, alla prostata, diminuendo sia il numero che le dimensioni. (Università del New Jersey, USA)
Contiene flavonoidi, nemici dei redicali liberi che accellerano l'invecchiamento.
Tiene sotto controllo trigliceridi e colesterolo.
Adesso se non lo bevi..sai cosa ti perdi..